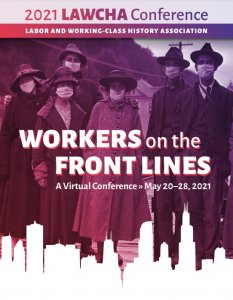 PDF Program
Download the PDF version here!
Program design and layout by Program design & layout: Michelle Montbertrand
---
How do I join?
Once you register, and again prior to the conference, we will email you with a link and a password to the page with our Zoom room information, including passwords.
Already registered? Go straight to our Zoom information page. Note: this page is password protected. You should receive this password in your email once you register, and again throughout the conference.
Forgot the password? Email [email protected] for help.
---
Thursday, May 20, 6 – 8 pm ET
Opening Night Plenary
College for All and a National Agenda for Labor in Higher Education
This summit brings together LAWCHA members, labor activists, Scholars for a New Deal for Higher Education (SFNDHE), and union representatives serving a variety of higher ed workers to discuss the College for All bill and how to use it as a foundation for a bottom-up national movement, one that demands fair funding, fair tuition, and fair labor. SFNDHE successfully fought to include labor provisions that prioritize contingent faculty and tenure-track positions in the College for All bill–but there is still more to be done. LAWCHA members, as labor scholars, higher ed workers, and union organizers, have a vital role to play in this national agenda and the federal legislative battles ahead.

Endorsed by the LAWCHA Contingent Faculty Committee
Higher Education Union Representatives TBA
Jalil Mustaffa Bishop, Postdoctoral Fellow at University of Pennsylvania and SFNDHE member
Ian Gavigan, PhD candidate at Rutgers University-New Brunswick
Aimee Loiselle, SFNDHE Co-Facilitator and Postdoctoral Fellow at Smith College
Eleni Schirmer, PhD Candidate at University of Wisconsin-Madison
Moderator: Lane Windham, Georgetown University
Friday, May 21, 12 – 1:15 pm ET
The Personal is Historical: Incorporating Family Legacies and Personal Experience into Labor History
Toni Gilpin, Independent Scholar
Sergio M. González, Assistant Professor of Latinx Studies, Marquette University
Jack Metzgar, Emeritus Professor of Humanities, Roosevelt University Chicago
David Ranney, Professor Emeritus, University of Illinois Chicago
Beryl Satter, Professor of History, Rutgers University-Newark
Christine Walley, Professor of Anthropology, Massachusetts Institute of Technology
Working People and (Human) Capital: Class, Race, and Education in Twentieth Century America
Human Capital, Summer Riots, and Disciplining Black Resistance: 1965-68, Mahasan Chaney, Brown University
Historicizing Workplace Power and the Limits of Human Capital, Cristina Groeger, Lake Forest College
"Putting (Some) People First": Reinventing Democrats and Workers in the Global Knowledge Economy, Jon Shelton, University of Wisconsin-Green Bay
Chair/Commentator: Jeffrey Helgeson, Texas State University
The "Frontline" at Home: Domestic Workers as Essential Workers
Joan Flores-Villalobos, University of Southern California
Anasa Hicks, Florida State University
Anna Jakubek, Arise Chicago (Domestic Worker Organizer)
Emma Amador, University of Connecticut
Premilla Nadasen, Barnard College
Rhacel Salazar Parreñas, University of Southern California
From the Prison to the Pandemic: Histories of Criminalization, Migration, andEssential Work in the U.S. and Europe
Policing Precarity: The Criminalization of Spectacle Work at the 1984 Los Angeles Olympics, David Helps, University of Michigan
Where Domestic and Penal Labor Meet: The National Domestic Workers Union and Georgia's Work Release Program, Eshe Sherley, University of Michigan
Working under the threat of Covid-19: West-African low-wage workers in New York City, Kalilou Barry, Paris-Est Créteil University
Discipline and Diversity: Forced Labor Inside New York City's Nineteenth-Century Carceral State, Michael Haggerty, University of California Davis
Migrant Workers in Slovakia and the Covid-19 Crisis, Benjamin Sorensen, Cape FearCommunity College Chair/Commentator: John Enyeart, Bucknell University
High Tech as Management Ideology and Workplace Praxis
The Paradox of Automation: QWERTY and the Neuter Keyboard, Jason Resnikoff, Columbia University
"The Machine is Neutral": Imperial Wars in Southeast Asia: American Tech Workers and Silicon Valley Internationalism, 1967-1980, Jeannette Estruth, Bard College
Grand Illusions: Clinton Intellectuals and the Idea of the "High Performance" Workplace, Nelson Lichtenstein, UC Santa Barbara
Chair/Commentator: Brishen Rogers, Temple University Law School
On the Margins of Labor and Capital: Shifting Social Identities in the Global South
Becoming pobladores: Identity and Place Making in Santiago, Chile, 1872-1950 Denisa Jashari, University of North Carolina, Greensboro
Korean Women Workers and Social Reproduction in the Japanese Countryside after World War I, Wendy Matsumura, University of California, San Diego
Revolutionary Encounters in the Countryside: Spanish Exiles, Mexican Peasants, and Rural Colonization Initiatives, Kevan Aguilar, University of California, San Diego
Chair/Commentator: Barbara Weinstein, New York University
Histories of Unions at the University of Illinois at Chicago
Cathleen Jensen, SEIU Local 73
Paul Pater, Illinois Nurses Association
Jeff Schuhrke, University of Illinois at Chicago
Janet Smith, UIC United Faculty
Chair: Robert D. Johnston, UIC United Faculty
Management, Vigilantism, and Repression from the Civil War to the 1930s
Murder on the Border 1865: The Last Battle of the Civil War as a Matter of Company Security, Mark Lause, University of Cincinnati
Why we must call the first Ku Klux Klan an Employers' Association, Chad Pearson, Collin College
The Chamber of Commerce in Action: Employer Violence in Pacific Northwest History, Aaron Goings, St. Martin's University
Chair/Commentator: Elaine Frantz, Kent State University
Union and Worker Responses to Police Brutality and State/Corporate Repression in the Early to Mid 20th Century
"Police Brutally Beat Girls Who Strike Against Garment Shop Starvation Wages": The Sopkins Factory Strike, 1933, Janette Gayle, Hobart & William Smith Colleges
Footloose Under Lock and Key: Policing Pacific Northwestern Migrant Workers in the Early Twentieth Century, Elizabeth Pingree, Boston College
Bloody Sticks and Working Class Martyrs: Responses to Police/Corporate Brutality During the Great Depression by Labor Organizers, James Robinson, Rutgers University
To Slay the "Beast of Reaction": The IWW, the East Coast Maritime Strike of 1936 and its Repression, Matt White, The Ohio State University
Friday, May 21, 1:45 – 3 pm ET
Working-class Coalitions and the Emerging Neoliberal Order, 1970-1990
"A New Bracero Program": Mexican American Resistance to Neoliberal Immigration Reform, Eladio B. Bobadilla, University of Kentucky
"Homeless and Jobless": Organizing for Justice, Dignity, & Reform in the Neoliberal City, Allyson P. Brantley, University of La Verne
Progressive Triangulation: Industrial Conversion, Municipal Politics, and Labor's Electoral Strategy in Los
Angeles, Tobias Higbie and Gaspar Rivera Salgado, University of California, Los Angeles
Chair/Commentator: Grace Davie, Queens College, CUNY
Hot Off The Press!: A University of Illinois Press Showcase
Alison K. Syring, University of Illinois Press
Dana M. Caldemeyer, South Georgia State College
Tom Alter, Texas State University
Nick Juravich, University of Massachusetts Boston
Jenny Carson, Ryerson University
Dawson Barrett, Del Mar College
Academic Labor Union Density Growth (2013-2019) in Perspective
William A. Herbert, Hunter College, CUNY
Jacob Apkarian, York College, CUNY
Joseph van der Naald, PhD candidate, CUNY Graduate School
Claire Goldstene, LAWCHA Committee on Contingent Faculty Chair
Robert D. Johnston, University of Illinois at Chicago
Comparative Approaches to Labor History: Canada, Brazil, and the United States
The Emergence of a Slave Labor System in 16th Century Brazil and Colonial Virginia, Sofia Cutler, Yale University
Separations and Strange Bedfellows: Labor and the New Left in the United States and Canada, Barry Eidlin, McGill University
"The Canadian Jimmy Hoffa": Hal Banks and a Comparative Perspective on the Issue of Union Corruption, David Witwer, Penn State Harrisburg
Chair/Commentator: Dorothy Sue Cobble, Rutgers University
Agrarian Crusades: Interracialism and Cultural Politics in the Late Nineteenth-Century South
"Are Not Our Interests the Same?": Black Protest, the Lost Cause, and Coalition Building in Readjuster Virginia, Bryant K. Barnes, University of Georgia
John Brown's Bodies: Civil War Memory and Interracial Class Politics in "the Other South," Matthew E. Stanley, Albany State University
"Big Landholders" versus "Three Classes" of Farmers: The Rise and Fall of Populism inGwinnett County, Georgia, 1873-1896
Matthew Hild, Georgia Institute of Technology
Chair/Commentator: Jane Dailey, University of Chicago
Visual Culture and Struggle in Latin and Latinx America
The Bisexual Erasure of Emiliano Zapata: Art, Censorship, and Revolutionary Struggle in Mexico, Robert Franco, Washington University in St. Louis
The Revolutionary Art of Rosendo Salazar: Anarchism, Muralism and State Ideology, Rosalía Romero, Pomona College
Visualizing Juana Colón: Archival Power and the Struggle for Remembrance in Puerto Rico, Jorell MeléndezBadillo, Dartmouth College
Chair: Kevan Antonio Aguilar, UC San Diego
Commentator: Alexander Aviña, Arizona State University
Gig Work in the Woods – The Long History of Contingent Logging Work in Maine's Woods, 1850-2020
Pulling the Strings in Maine's Forests, 1940–2000, Michael G. Hillard, University of Southern Maine
I will be a farmer until I take a job: Agrarian Independence and Contract Labor in Rural New England and New
York, 1850-1930, Jason Newton, University of North Carolina–Charlotte
The Struggle Continues – Maine Loggers' Recent Gains, Troy Jackson, Maine State Senate
Chair/Commentator: Elizabeth Tandy-Shermer, Loyola University of Chicago
Saturday, May 22, 12 – 1:15 pm ET
Anti-Apartheid Organizing and the Long Civil Rights Movement in the United States: Corporate Research, Bank Campaigns, and the Push for Sanctions
From Shareholder Activism to Trade Union Corporate Campaigns: How the International Anti-Apartheid Movement Reshaped the American Left, Grace Davie, Queens College, CUNY
"Redline South Africa, Not Lawndale and Chicago's Black West Side!": The 1977-88 Anti-Apartheid Bank Campaign, Prexy Nesbitt, Chapman University
"Radicals in a Broader Sense": Anti-Apartheid Politics and the Long Arm of the Civil Rights Movement, Leon Fink, University of Illinois at Chicago
Chair/Commentator: Alex Lichtenstein, Indiana University
Writing Puerto Rican Labor History: A Discussion of 'Colonial Migrants at the Heart of Empire'
Emma Amador, University of Connecticut, Storrs
Ismael Garcia-Colón, College of Staten Island and CUNY Graduate Center
Eileen Findlay, American University
Carmen Whalen, Williams College
Jorell Melendez-Badillo, Dartmouth College
Delia Fernandez, Michigan State University
Metzgar's Striking Steel: A Twenty Year Retrospective
Tracy Neumann, Wayne State University
Gabriel Winant, University of Chicago
Samir Sonti, CUNY
Jefferson Cowie, Vanderbilt University
Jack Metzgar, Roosevelt Universtiy (retired)
Christine Walley, Massachusetts Institute of Technology
Broadcasting the Working Class: A Podcast and Community Radio Workshop
Maximillian Alvarez, The Real News Network
Judy Ancel, KKFI, Kansas City Community Radio
Patrick Dixon, Georgetown University
Jerry Mead-Lucero, Labor Express Radio
Liz Medina, Vermont State Labor Council, AFL-CIO
Alan Wierdak, University of Maryland
Canaries in the Coal Mine: Sex Workers at the Front Lines
Angela Jones, SUNY Farmingdale
Heather Berg, Washington University St. Louis
Lindsay Blewett, York University
femi babylon, writer and artist
Emily Coombes, University of Nevada Las Vegas
Velvet, Sex Workers Outreach Project
Chair/Commentator: Melinda Chateauvert, Front Porch Research Strategy
Walls, Bars, and Fences: Incarcerated Workers in Canada's Past and Present
From Camps to the Streets: Direct Action During the Great Depression, Mikhail Bjorge, University of Toronto
Prisoner Unionization in Canada, Jordan House, Brock University
Working Over Canada's First National Internment Operations, Kassandra Luciuk, University ofToronto
Chair/Commentator: Paul Gray, Brock University
Saturday, May 22, 1:45 – 3 pm ET
New Directions in Faith, Labor, and the Common Good
Dan Graff, University of Notre Dame
Karen Kent, Unite Here Local 1, Chicago
Sr. Emily TeKolste, SP, NETWORK Lobby for Catholic SocialJustice
Kevin Hawkins, US Federal Mediation and Conciliation Service
James Franczek, Jr., Franczek P.C.
Chair/Commentator: Heath Carter, Princeton Theological Seminary
Red, Green, and International
Cindy Domingo, Legacy of Equality Leadership and Organizing
Carrie Freshour, Geography, University of Washington, Seattle
Rosalinda Guillen, Community to Community
Alina R. Méndez, University of Washington, Seattle
Michael Schulze-Oechtering, Western Washington University
Teaching Labor's Story: Writing Workshop
Nikki Mandell, University of Wisconsin-Whitewater
Randi Storch, SUNY Cortland
Rosemary Feurer, Northern Illinois University
Emily Lieb, Seattle University
Lisa Phillips, Indiana State University
Nick Juravich, UMass Boston
Cecelia Bucki, Fairfield University
The Home as an Essential Workplace
Northern Households, Immigrant Domestic Workers, and the Immigration and Naturalization Act of 1965, Eileen Boris, University of California at Santa Barbara
"A First-Rate Seamstress For Sale": Gender, Slavery, and the Contested Meaning of Home, Alexandra Finley, University of Pittsburgh
Fashioning Community: Black "At Home" Dressmakers in Early Twentieth Century New York City, Janette Gayle, Hobart & William Smith Colleges
Political Homework: Latina Labors and Political Activisms, 1930-1960, Sarah McNamara,Texas A&M University
Bargaining for "Work and Family": Labor Defines Work-Family Benefits and the Meaning of Home, Kirsten Swinth, Fordham University
Chair/Commentator: Katherine Turk, University of North Carolina at Chapel Hill
Entangled Histories of Racial Capitalism in the United States and South Africa
Strings Attached: Coke Money and the Student Divestment Movement in Atlanta, Amanda Joyce Hall, Yale University
Not the country for cheap white labour: U.S. Mining Engineers and the Elaboration of Racial Capitalism in South Africa, 1889-1910, Doug Jones, University of Illinois at Urbana- Champaign
Beyond Desegregation: Waging a Battle Against Apartheid in the South African Workplace, Mattie Webb, University of California, Santa Barbara
The American-African Affairs Association and the Conservative Case for South Africa Kelsey L. Zavelo, Duke University
Chair/Commentator: Jessica Ann Levy, SUNY-Purchase
Essential in the City: Working People and Organized Labor in Times of Urban Crisis
Empire in Need: Scales of Struggle in 1970s Seattle, Andrew Hedden, University of Washington
Fighting for the Working Class City: Retired Workers, Organized Labor, and Redevelopment in San Francisco, Laura Renata Martin, South Puget Sound Community College
Public Sector Unions and in the Re-Articulation of Essential Work in the 1975 New York City Fiscal Crisis, Michael Beyea Reagan, University of Washington
Mutual Aid and the Hierarchy of Care: Organizing Care Work in Capital's Crises, JM Wong, Office of Civil Rights
Chair/Commentator: Katie Wilson, Transit Riders Union in Seattle
Networks of Working-Class Organization in the American Midwest, 1900-1970
Millions of Honest Workingmen: Reconstructing Socialist Networks in Chicago, 1900-1917, Natalie Behrends, Harvard University
The Kansas City Solidarity Infrastructure: Articulating Class Interests with Progressive Allies in the 1910s, Jeff Stilley, University of Missouri
Red Detroit: Revolutionaries, Labor Organizers, and Communists in the Motor City During the 1970s, Kenneth Alyass, Harvard University
Chair/Commentator: Traci Parker, University of Massachusetts Amherst
Saturday, May 22, 8 – 10 pm ET
Plenary
Essential Workers in the Food Industry during the Pandemic
The early weeks of the pandemic seemed to teach a general lesson about "essential labor," a lesson that seems to have been largely forgotten since. In the meantime, the struggle to raise the federal minimum wage continues, despite the recent setback. This panel considers the possibilities of organizing in fast food and other restaurants, as a particularly militant part of the US working class historically, and today.
Mohamed Attia, Executive Director, Street Vendor Project
Dorothy Sue Cobble, Distinguished Professor Emerita of History and Labor Studies, Rutgers University
Ryan Coffel, Colectivo Collective Union Organizer
Carlos Enriquez, Restaurant Organizing Project, Democratic Socialists of America
Ben Wilkins, Organizing Director, NC Raise Up
Monday, May 24, 4:30 – 5:30 pm ET
Writing and Teaching a Labor History of Contingent Faculty (Joint Session with UALE)
Monday, May 24, 8 – 10 pm ET
LAWCHA/UALE Cultural Event: A Night of Poetry and Music
Tuesday, May 25, 12 – 3 pm ET
LAWCHA Board Meeting
Tuesday, May 25, 8 – 10 pm ET
UALE/LAWCHA Plenary: 9 to 5
We will gather with the United Association of Labor Educators for a screening and roundtable discussion of Julia Reichert and Steve Bognar's documentary film, 9to5: Story of A Movement.
Wednesday, May 26, 6 – 7:30 pm ET
LAWCHA Member Meeting
The LAWCHA Membership Meeting will begin with a short greeting from an organizer of the B'Amazon Union Council of RWDSU, which is supporting the organization of workers at Amazon warehouses in Bessemer and across the South. The meeting will also include the announcement of this year's LAWCHA Distinguished Service to Labor History Award and other prizes, and a discussion of LAWCHA's future led by Vice President Cindy Hahamovitch.
Thursday, May 27, 12 – 1:15 pm ET
Public Sector Workers on the Front Lines of Democratic Existence
Gender & Politics among Federal Indian Service Employees, 1800-1930, Cathleen D. Cahill, Penn State University
Night of the Living Dread: Public Sector Workers Can't See Light of Day, Frederick Gooding, Jr., TexasChristian University
"They Won't Work for a Cop of Any Kind": The 1970 Sanitation Slowdown, Municipal Workers and Black Power Politics in Philadelphia, Francis Ryan, Rutgers University
The Meaning of Teachers' Labor in American Education: Change, Challenge, and Resistance, Jon Shelton, University of Wisconsin – Green Bay
"We're the Backbone of this City": Women & Gender in Public Work, Katherine Turk, University of North Carolina
Sick Ins, Heal Ins, and Wildcat Strikes: Labor Organizing at Chicago's Public Hospital in the 1960s and Its Legacy for the 1970s, Amy Zanoni, Southern Methodist University
Chair/Commentator: Eric S. Yellin, University of Richmond
Roundtable: On doing global labor history: challenges and benefits
Julie Greene, University of Maryland–College Park
Rhacel Salazar Parreñas, University of Southern California
Peter Cole, Western Illinois University
Moderator: Shelton Stromquist, University of Iowa
Gangsters, Deindustrialization and Labor History for the Fashion Industry:Perspectives on New York City's Garment District
Teaching Fashion Students About the History of the NYC Garment District, Kyunghee Pyun, Fashion Institute of Technology
Teaching Fashion Students About the History of the NYC Garment District, Daniel Levinson Wilk, Fashion Institute of Technology
On the Auction Block: The Garment Industry and the Deindustrialization of New York City, Andrew Battle, Common Notions
Murder in the Garment District: The Historic Role of Labor Racketeering in the International Ladies Garment Workers Union, Catherine Rios, Penn State University
Chair: David Witwer, Penn State University
Commentator: Kim Phillips-Fein, New York University
Economically Essential, Medically Marginal: Latinx Migrant Worker Health on theFront Lines of Twentieth Century U.S. Industry
Resisting Death and Dismemberment: Mexican Strategies to Secure Compensation in the Lower Midwest, Bryan Winston, Dartmouth College
20th Century Agricultural Labor, Migrant Death, and Remembering Lost Lives, Juan Ignacio Mora, University of Illinois Champaign-Urbana
Surviving Dairyland: Investigating How Undocumented Immigrants Navigated WorkplaceDanger in the Rural
Midwest, 1988-2004, Dustin Cohan, University of Wisconsin-MadisonChair: Marla A. Ramírez, University of Wisconsin-Madison
Commentator: Chantel Rodriguez, University of Maryland
Exploring Black Power, Political Resistance, and Social Movements
Forging Radical Inclusivity: Jon Paul Hammond's Architecture of a World Unrealized, J.T. Roane, Arizona State University
Rethinking Black Intellectuals and the "Inner" City: Against the Plantation to Ghetto Narrative in the US Capital, Paula C. Austin, Boston University
"People Can't Live in a Stadium:" Black Resistance to the Politics of Development in Atlanta, Danielle Wiggins, California Institute of Technology
Chair and Commentator: Marsha Barrett, University of Illinois at Urbana-Champaign
Democracy in Public Sector Unions
More Whitley Than Wagner: A Canadian Public Sector Union's Experience with Sectoral Bargaining from 1967 to 2000, Jason Russell, SUNY Empire State College
Democracy & Authority at Work: Public Employees in 1970s Pennsylvania, James Young, Edinboro University
Striking and Bargaining for the Common Good: The Case of the 1970 New Haven Federation of Teachers, Alexander Kolokotronis, Yale University
Firestorm!: Chaffey College in Crisis, 1978-1980, Lukas Gunderson, Chaffey College
The Struggle Over The Story: Rethinking Schools, Union Democracy and the Milwaukee Teachers' Union, 1975-1990, Eleni Schirmer, University of Wisconsin
Education and the Making of Working-Class Politics in Boston
We're doing it our way: Working-Class African American and Latina Mother-Organizers in Boston's
Movements for Educational Justice, Tatiana M.F. Cruz, Lesley University
Driving Against Injustice: Boston's School Bus Drivers Union and the Struggle for a Democratic City, Jeffrey Helgeson, Texas State University
Class Politics and School Desegregation in Boston, 1974–1985, Greta de Jong, University of Nevada, Reno
From Busing to Black Lives Matter: The Evolution of the Boston Teachers Union, Nick Juravich, UMass Boston
Chair/Commentator: Zebulon Miletsky, Stony Brook University
Collective Bargaining from All Sides: Unionism, the Faculty Senate, ContingentFaculty, and Academic Administration
Naomi R. Williams, Rutgers University
David Hamilton Golland, Governors State University
Jon E. Bekken, Albright College
Nelson Ouellet, Université de Moncton
Labor and the First Amendment: Recovering the Past, Reclaiming the Future (Co-sponsored by UALE)
Sophia Z. Lee, University of Pennsylvania Law School
Laura Weinrib, Harvard Law School
Donna T. Haverty-Stacke, Hunter College and the Graduate Center, City University of NewYork
Catherine Fisk, University of California, Berkeley Law
Jessica Rutter, American Federation of Teachers
Amanda Jaret, United Food and Commercial Workers
Tapping into Crises: Identity, Cultural Production, and Exploitation in America'sHistoric Brewing Industry
Joseph B. Walzer, University of Wisconsin-Milwaukee
Krista Grensavitch, University of Wisconsin-Milwaukee
John Harry, University of Wisconsin-Milwaukee
Jacob Remes, New York University
Thursday, May 27, 1:45 – 3 pm ET
Cold War Labor: Crossing Borders, Crossing Systems
Flexible Production with Socialist Characteristics in the Soviet Union: The Case of the Shchekino Chemical Combine, 1967-1971, James Nealy, Duke University
From 'Free' Trade Unionism to Free Trade Zones: Labor Internationalism at Cold War's End, Jeff Schuhrke, University of Illinois at Chicago
Reproduction and Destruction: Caring Work in America's Cold War Empire, Hannah Ontiveros, Duke University
Chair/Commentator: Leon Fink, Editor of Labor: Studies in Working-Class History
Setting the Stage for Restructuring: Government, Organized Labor, and Finance Capital's Responses to the Prospect of American Industrial Decline
If We Build It, They Can Profit: How the Area Redevelopment Administration Federalized Corporate Welfare, Alyssa Russell, Duke University
A Nationalist Response to a Crisis of Power: The AFL-CIO and the Burke-Hartke Act, 1971-1974, Melanie Sheehan, University of North Carolina-Chapel Hill
Sort of a Renaissance Man: David Murdock's Rusty Paternalism in Kannapolis, N.C., 1982-Present, Will Raby, University of North Carolina-Chapel Hill
Chair/Commentator: Erik Gellman, University of North Carolina-Chapel Hill
Multispecies Workforces and the Limits of Solidarity
Reducing Chinese Laborers to Beasts of Burdens: Dehumanization and Resistance in San Francisco during the
Great Epizootic Influenza Outbreak of 1873, Thomas G. Andrews, University of Colorado Boulder
The Making of the Circus Celebrity and the Unmaking of the Circus World, Andrea L. Ringer, Tennessee State University
Who Was a Worker?: Industrial Captivity, Industrial Childhood, and the Politics of Manufacturing Illuminants, 1830-1865, Jeremy Zallen, Lafayette College
Chair: Joshua Specht, University of Notre Dame
Commentator: Susan Nance, University of Guelph
On the Front Lines Against Fascism I: The Making of US Antifascism
Class War and Peace: Communism, Anti-Imperialism, and Antifascism in the Interwar Period, Alexander M. Dunphy, University of Maryland, College Park
Character of a New Type: Richard Wright's Native Son and Popular Front Aesthetics, John Bohn, Columbia University
Antifascism, Antisemitism, and the Young Communist League in Los Angeles, Caroline Luce, University of California, Los Angeles
Chair/Commentator: Christopher Vials, University of Connecticut-Storrs
If We Can't Enforce Our Rights, Then No One Will: The Worker-driven Social Responsibility Model's History and Impact on Supply Chains
Cathy Albisa, Chair of the WSRN Coordinating Committee
Marita Canedo, Migrant Justice
Gerardo Reyes Chavez, Coalition of Immokalee Workers
Jennifer Lynn Bair, University of Virginia
Racial Capitalism and Labor History
Keona K. Ervin, University of Missouri
Elizabeth Esch, University of Kansas
Bernadette Pérez, University of California, Berkeley
Olúfẹ́mi O. Táíwò, Georgetown University
Gabriel Winant, University of Chicago
Community Organizers and the Building of Worker Power
Naomi R. Williams, Rutgers University
Dennis Deslippe, Franklin & Marshall College
Louis Kimmel, New Labor
Jonathan Lange, Industrial Areas Foundation
Andrea Ortiz-Landin, Brighton Park Neighborhood Council
Mazahir Salih, Center for Worker Justice of Eastern Iowa
Deborah Scott, Georgia STAND-UP
Dignity and Labor: The Push for Fair Pay and Social Respect, 1919-1946
Before Essential Workers: Chicago's Janitors, Sanitation, and the SEIU, Benjamin Peterson, Alma College
The Same as a Man: Gender, Labor, and Equality in the Fort Worth Armour & Co Plant, 1942-1946, Justin Jolly, Texas Christian University
The American Standard: How the Fight Over Minimum Wage for Mexican Women Helped Shape White Supremacy in the State, Leah LaGrone Ochoa, Texas Christian University
Chair/Commentator: Kenyon Zimmer, University of Texas Arlington
On the Imperial Frontline: Radical Activism across Borders
Agrarian Radicals on the Edge of Empire in Texas, 1846-1917, Tom Alter, Texas State University
Socialism and the Construction of a Global White Consciousness: Race and Colonialism in the Second International (1889-1914), Lorenzo Costaguta, University of Bristol
The Emergence of an Anarcho-Feminist Movement in the Mexican Borderlands: Caritina Piña, Hermanos Rojos, and Germinal, 1915-1930, Sonia Hernández, Texas A&M University
Chair/Commentator: Kyle Pruitt, University of Maryland
Thursday, May 27, 8-9:30 pm ET
Plenary
The New Labor Journalist and the First Draft of Working-Class History
Recent years has seen surging interest in workplace issues as more workers engage in strikes and express interest in unions. The pandemic has further heightened labor conflicts, as inequality of many sorts soars, people debate the nature of essential work, and the gig economy expands but also is challenged. What will historians of the future make of it all? It's often been said that journalism is the first draft of history. Join some of today's leading labor journalists–whose proliferation itself is a sign of greater importance of labor
Michelle Chen, Dissent/Nation
Steven Greenhouse, formerly New York Times
Kim Kelly, Teen Vogue
Juliana Reyes, Philadelphia Inquirer
Micah Uetricht, Jacobin
Friday, May 28, 12 – 1:15 pm ET
Labor, Disability, and Imperialism in the U.S. Empire
Labor, Race, and Disability on the Panama Canal, Caroline Lieffers, King's University
The U.S. Imperial World of Labor and Disability, Jack Werner, University of Maryland, College Park
Ability and the Management of Empire, Karen Miller, LaGuardia Community College, CUNY
Chair Commentator: Colleen Woods, University of Maryland, College Park
On the Front Lines Against Fascism II: Antifascism Across Borders
The Spanish Civil War and Anti-Fascism in the USSR: From the Great Patriotic War to the Soviet Postwar, Glennys Young, University of Washington
The Surprisingly Transnational Origins of Antifascism: A New Proletarian Politics in Interwar Rome and New York City, Joseph Fronczak, Princeton University
Aid the Victims of German Fascism! Transatlantic Networks and the Rise of Anti-Nazism in the USA, 1933–1935, Kasper Braskén, Åbo Akademi University
Chair/ Commentator: Julie Greene, University of Maryland, College Park
Structuring Home-Based Labor: Professionalization, Organizing, and Resistance Among Child Care and Domestic Workers
To Dignify Housework: Professionalizing Household Labor in the Early-Twentieth Century United States, Cristina Groeger, Lake Forest College
Importing Care: the History of the Au Pair Program, 1986 to the present, Justine Modica, Stanford University
Organizing Low-Wage Women Workers: A Comparative Report from the Field – Then and Now, Rosa Navarro, SUNY Albany
Chair/Commentator: Grace Chang, University of California Santa Barbara
New Perspectives on U.S. Socialist History
Intellectual Radicals: How Ben Hanford and Carl Sandburg Shaped American Socialism, S,tephanie M. Riley, University of South Carolina
Fighting Fascists: Socialists and the Social History of Anti-Fascism in the Early 1930s, Ian Gavigan, Rutgers, New Brunswick
After the Party: Socialist Milwaukee in the New Deal and World War II, Aims McGuinness, University of California Santa Cruz
Chair/Commentator: Tobias Higbie, University of California Los Angeles
Policing White Supremacy: Police Unions, City Politics, and Police Brutality, a RoundTable Discussion
Aaron Bekemeyer, Harvard University
Michael J. Lansing, Augsburg University
Simon Balto, University of Iowa
Redesigning and Reimagining Superhero Narratives and Essential Workers
Michele Bury, California State University, Dominguez Hills
Vivian Price, California State University, Dominguez Hills
Ellie Zenhari, California State University, Dominguez Hills
Chair/Commentator: Vivian Price
Towards a Collaborative Path Forward: Envisioning the Future of Community Connections in the Responsive Curation, Promotion, and Description of Labor-Related Collections (Co-sponsored by UALE)
Documenting the Intersectionality of the Black Lives Matter and Labor Movements: Why We Can't Wait, Ben Blake George Meany Labor Archive, UMD
Corrective Collecting and Proactive Documentation, Outreach, and Archival Description Strategies: A Collaborative Community-Centered Model, Conor M. Casey, Labor Archives of Washington, Seattle
Speaking of Work: The Evolution of the Iowa Labor History Oral Project and the Future of Labor Archives in the Midwest, John W. McKerley, University of Iowa Labor Center
Building Shared Power and Solidarity: Community Programming as a Strategy for Mutual Care, Support, and Growth, Shannon O'Neill, Tamiment-Wagner Collections, NYU
The Present is Prologue: Building Archival Collections in the Now, Catherine Powell, Labor Archives & Research Center, SFSU
Developing a Collaborative Relationship between the United Auto Workers and its Archives, Gavin Strassel, Walter P. Reuther Library, WSU
Friday, May 28, 1:45 – 3 pm ET
Finding Black Resistance in the Archives – Exploring Chicago's Black Labor andWorking-Class History
Erik Gellman, University of North Carolina – Chapel Hill
Melissa Ford, Slippery Rock University
William Adams, University of Kansas
Beverly Cook, Chicago Public Library
Chair/Commentator: Marcia Walker-McWilliams, Black Metropolis Research Consortium
Farms, Factories, and Files: Centering Women in Modern U.S. Labor History
Performing the Family Farm: Gender and Labor on Stage at Farm Aid, Daniel Gilbert, University of Illinois, Urbana-Champaign
Pickin' and Shuckin': African American Women's Work in the Mississippi Gulf Coast Seafood Industry, Deanne Stephens, University of Southern Mississippi
Discouraging the Office Wolf: The Delayed Campaign Priorities of the Working Women's Movement, Amanda Walter, Towson University
Chair/Commentator: Caroline Waldron, University of Dayton
Populism, Labor, and Social Movements
Thomas Alter, Texas State University
Omar H. Ali, University of North Carolina at Greensboro
Rachel Meade, Boston University
Chair/Commentator: Robert D. Johnston, University of Illinois at Chicago
The Right to Labor: Making Multiracial Solidarity from the Gilded Age to the Great Depression
The Corporation's Racial Body, Yuhe Faye Wang, Yale University
Slave Labor Must Die and Free Labor Shall Be its Executioner, Kyle Pruitt, University of Maryland
Human Rights versus Property Rights, 1880-1940, John Enyeart, Bucknell University
/Commentator: Rachel Ida Buff, University of Wisconsin-Milwaukee
More to the Stories: Communist Party Gains and Rightwing Violence in the 1930s
Keeping the Peons in Line: Rightwing Rioting in 1939 San Antonio, Gigi Peterson, State University of NY – Cortland
Keeping the Peons in Line: Rightwing Rioting in 1939 San Antonio, Martin Halpern, Henderson State University (Emeritus)
Dead Red Reaction: The Klan Responds to the CPUSA Organizing the South, Ben Schmack, University of Kansas
Popular Radicalism in the 1930s: The History of the Workers' Unemployment Insurance Bill, Chris Wright, Hunter College
Chair/Commentator: Randi Storch, State University of NY – Cortland
Red, Blue, Purple: Deindustrialization and Working-Class Political Realignment
Urgent Emergence: Post-NAFTA Working-Class Politics in Southern Indiana, Joseph Varga, Indiana University Bloomington
Appalachia in the Neoliberal Era, Lou Martin, Chatham University
A "Sweatshop Employer": The Embodied Politics of Workplace and Community Campaigns Against
Deindustrialization in Western New York, Jason Kozlowski, West Virginia University
Chair/Commentator: Sherry Lee Linkon, Georgetown University
A Decade of Documenting Agricultural Workers' Struggles: The Farmworker Association of Florida and the Samuel Proctor Oral History Program at the University of Florida
Erin Conlin, Indiana University of Pennsylvania
Matt Simmons, University of Central Florida
Adolfho Romero, University of Florida
Chair: Paul Ortiz, University of Florida
Commentator:J. Antonio Tovar, Farm Workers Association of Florida
Chicago Health Care and Activism, Past and Present
The Struggle for Safe Schools and Communities, Stacy Davis Gates, Chicago Teachers Union
Care and Protest during Covid-19, Elizabeth Lalasz, National Nurses United
The History of the Trauma Center Campaign, Toussaint Losier, University of Massachusetts-Amherst
Fifty Years in the Struggle for Health Care as a Human Right, Linda Rae Murray, University of Illinois-Chicago
The Public Hospital and Chicago's History of Health Care Activism, Amy Zanoni, Southern Methodist University
Friday, May 28, 8-10 pm ET
Plenary
Screening of Adrian Prawica's new documentary film, Haymarket: The Bomb, the Anarchists, the Labor Struggle.