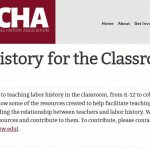 Ed: This is one of a series of conference notes from the recent LAWCHA conference. If you have reflections from one of the panels or plenaries, please send them along. 
Teaching Labor's Story: A Mission and a Workshop
The Trump years and rise of white nationalism in the United States and Europe has given new urgency to the work of the Labor and Working-Class History Association and to democracy-loving historians.
Read more →