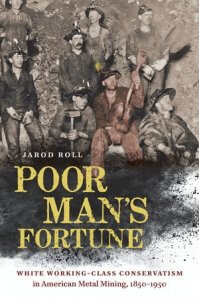 LAWCHA's Pandemic Book Talks feature talks by LAWCHA members whose books launched in the midst of (or just before) the pandemic. Book talks feature a presentation and a discussion. Join us December 17 for Jarod Roll's, Poor Man's Fortune: White Working-Class Conservatism in American Metal Mining, 1850–1950 (University of North Carolina Press, 2020).
With painstaking research, Roll shows how the miners' choices reflected a deep-seated, durable belief that hard-working American white men could prosper under capitalism, and exposes the grim costs of this view for these men and their communities, for organized labor, and for political movements seeking a more just and secure society. Roll's story shows how American inequalities are in part the result of a white working-class conservative tradition driven by grassroots assertions of racial, gendered, and national privilege.
Please join us at 7pm (EST) on Thursday, December 17, 2020.
Please register here in advance and join us via Zoom. (link)