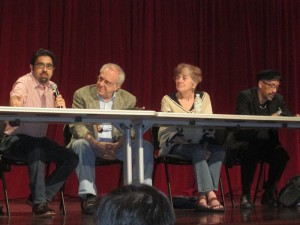 Recaps and Reports
The New York conference in June marked an important threshold for LAWCHA. The programmatic diversity and stimulus to membership the conference created invites some rethinking of LAWCHA's identity as an organization and future directions. Thanks to extraordinary efforts of the conference program committee, in particular Manny Ness, Ryan Poe, Chris Michaels, and Kim Phillips, the conference was larger, more visible, and more inclusive of labor and community activists than any event we have held. For some time now—in part through greater visibility on the web—we have seen significant numbers of non-academics joining the organization, with a wide range of interests and an eagerness to be connected to a diverse community of labor historians and activists.
Staughton Lynd, historian and longtime labor and social activist sent a message and greeting to be read at the Closing Plenary of the LAWCHA National Conference in New York City, June 6-8, 2013. His greetings of solidarity were conveyed to the audience, but because of severe time constraints the message was not read at the session, but we are sharing it here with the wider LAWCHA community.
[toc]
How have working people developed solidarity and power to confront employers and the state, to struggle with each over and within their communities, to enhance rights and extend the arc of justice? How do we as scholars, educators, and labor activists assess strategies deployed in the past and the present? How do workers themselves measure the success of our social movements? Over 500 people came together in New York City to wrestle with such questions. We explored the efficacy of past organizations, including unions, cooperatives, and mutual aid societies, and the promise of new structures being built by people of color, women, immigrants, and workers historically excluded from labor law and collective bargaining. Indeed, the presence of domestic workers, worker center organizers, occupiers and others outside of or loosely related to traditional trade unions marked an expanded house of labor as surely as did discussions of prison, home care, student, and creative workers widen the subject of labor history and labor organizing.
Wesley Bishop, "Looking Forward: New Directions and Strategies for Labor" Session, LAWCHA Conference
The 2013 LAWCHA national conference ended with a closing session held at Cooper Union Hall on Saturday, June 4th at 4:30. The closing plenary, entitled "Looking Forward: New Directions and Strategies for Labor," featured activists, labor leaders, and academics who all offered remarks and insights into what they saw as the new directions and future for the American labor movement.
---
Want to send us comments, observations, or recaps? Send them to [email protected].
Photographs