Check out the latest Teaching Labor's Story: DRUM List of Demands, 1969 (9.4) has been posted along with our growing list of guided lesson plans.
Looking for a way to broaden and deepen discussions of race to include issues of work and
class?
The Detroit Revolutionary Union Movement's list of Demands, issued to Chrysler's Dodge Main assembly plant in Hamtramck, Michigan, in 1969, is a great primary source for exploring these issues. DRUM's Demands offer fine-grained insight into shopfloor conditions, employment practices, workplace grievances, and the ways in which militant activists joined revolutionary Black nationalism with the struggle for workers' rights.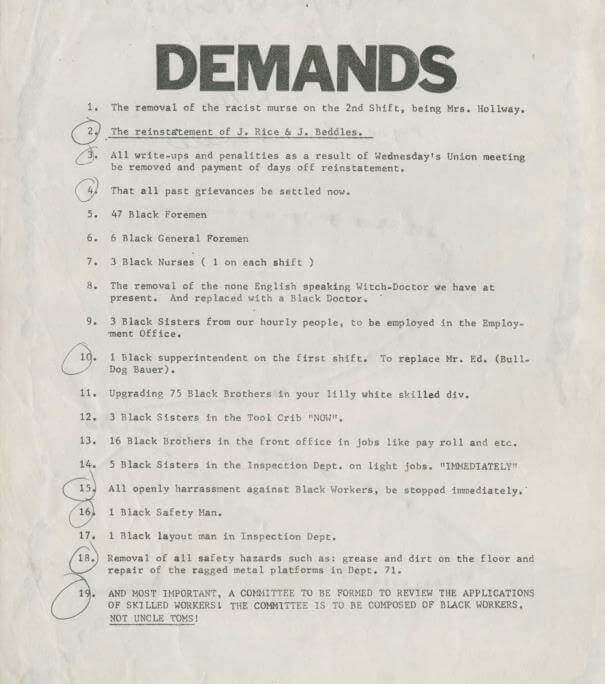 The contextualizing essay connects DRUM's Demands to both local community conditions
(including "the particularly grim housing crisis,…an abysmal track record of racialized violence at the hands of the Detroit Metropolitan Police, and…below-average opportunities for younger workers") which contributed to Detroit's urban uprising in 1967, and to wider national and international activism (including the Black Panther's 10-point program and ideas of labor internationalism).
This Teaching Labor's Story entry is authored by Coleen Diane Holloway, a doctoral candidate in Global History of Empires at the University of Turin's Department of Cultures, Politics, and Society. She holds a Master's degree in History from the University of Bologna and a Bachelor's in Political Science from the University of Seattle. Her current research focuses on the consequences of social and economic change for unions and workers' movements in Detroit and Turin during the 1980s. She has published on campaign expenditures in U.S. congressional elections (The Forum, 2017) and is engaged in an upcoming translation project from English to Italian exploring the historical trajectories of capitalism.