This is the first entry in a symposium on Steven High's recently published Deindustrializing Montreal: Entangled Histories of Race, Residence, and Class (Montreal: McGill-Queen's University Press, 2022).  The book tracks what High calls the "structural violence" and "social ruination" involved in the term deindustrialization. It traces the fate of Point Saint-Charles, a historically white working-class neighborhood  and Little Burgundy, a multiracial neighborhood that is home to the city's English-speaking Black community. We start with Lizabeth Cohen's contribution. We will proceed each day with commentary by Austin McCoy and Ted Rutland, followed with a response by author Steven High. The symposium was organized by Ian Rocksborough-Smith, assistant professor of history at University of the Fraser Valley.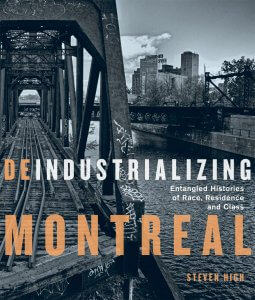 Steven High's Deindustrializing Montreal is a tale of two neighborhoods divided by the  Lachine Canal in what was once Montreal's most important industrial area. Until the 1980s, Point Saint-Charles and Little Burgundy were home to industries ranging from massive steel to tiny buttons as well as to the city's central railroad hub, and to the many working-class residents who found employment and community there. But from the 1970s to 1990s these neighborhoods underwent a huge transformation. Deindustrialization shut down factories, eliminated good union jobs, and left those residents who remained there poorer and more desperate. Exacerbating the problems of industrial collapse, moreover, were the strategies that the City of Montreal undertook to stem, they thought, urban decline. As in many cities faced with similar economic challenges, Montreal's urban renewal initiatives to revitalize the area only worsened residents' problems. The canal was closed to shipping, and longstanding infrastructure, small businesses, and residences were demolished. In response, some neighborhood residents joined the trek out of the city to suburbs that had begun years earlier. Other residents, often the poorer ones, stayed, some becoming activists committed to preserving the churches, schools, and other community institutions now under threat.
Meanwhile, in the old neighborhoods alongside the canal and extending a few blocks back appeared the third of High's transformations alongside deindustrialization and suburbanization: gentrification. In place of the shuttered factories, luxury condos and recreational biking and walking paths drew young middle-class professionals to the area, now made even more convenient to downtown by the addition of a new metro station. Beyond convenience, new residents were attracted to a community they associated with once-gritty industrialism, aestheticized in High's apt phrase as "deindustrial sublime," even as their presence contributed to the erasure of that industrial past and a growing gap between the newcomers and the area's working-class residents.
What makes High's Deindustrializing Montreal so impressive and unique among deindustrialization studies is its attention to so many facets of the story. Not only do we learn how the commonly told story of plant closures and railway decline impacted workers, but we also see the many other social and economic shifts that accompanied the retreat from industrialism, as well as activists' response to those challenges. Importantly, High is careful not to homogenize the community response, identifying, for example, distinctive experiences and reactions among Whites and Blacks, the latter of whom had been shut out of good factory jobs and had depended instead on employment as porters on the railroad. In the end, they fared no better than the more privileged White workers who lost jobs in unionized plants, as railroad positions disappeared too, when cars and trucks increasingly replaced rail.  In High's narrative, both class and race matter, with "racial capitalism" delivering a double whammy to Little Burgundy, the heart of Black Montreal. High's book is a significant contribution to a literature that too often concentrates on one identity group more than the other.
High aims as well to locate the deindustrialization story in a larger context of political change underway in Montreal and Quebec Province, most importantly the not-so-quiet Quiet Revolution of the 1960s and 1970s that led to the adoption in 1974 of French as Quebec's official language. That embrace of Frenchness would encourage some companies to relocate to English-speaking provinces in Canada, as well as fuel greater discord between English speakers, often Black, and the local francophone population.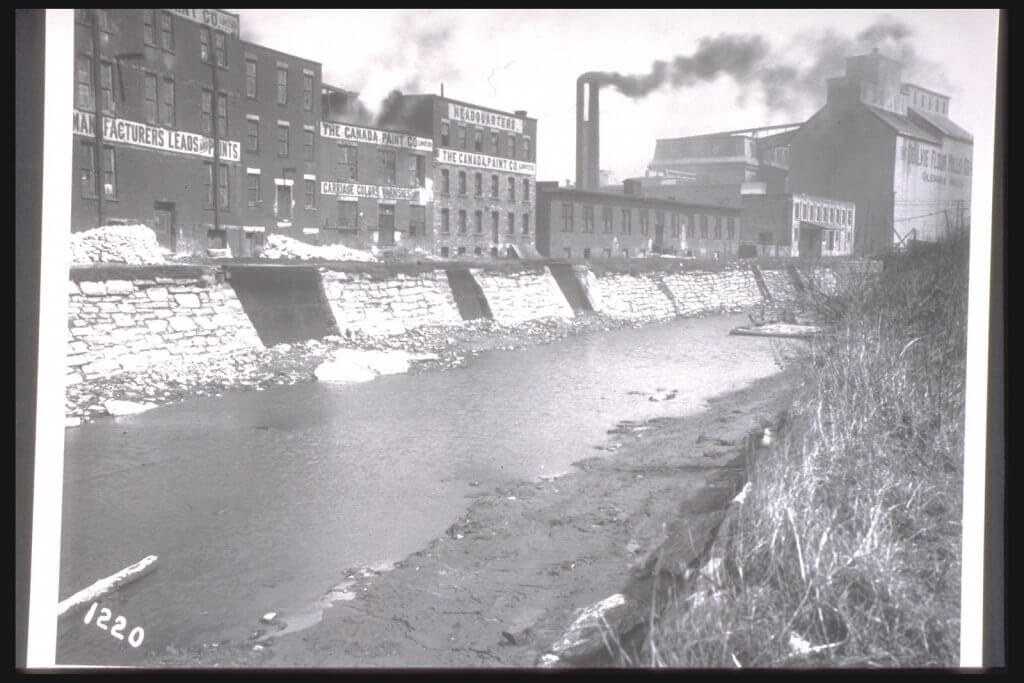 I found particularly enlightening High's analysis of the gentrification process, at once both physical and cultural. We learn about how the national government's underfunding of the effort to transform the canal area turned much of the development over to the private sector. We see how the first condos were carved out of the ruins of industrial buildings in the 1980s, followed by newly constructed condo towers once future investments were deemed safe. High pays particular attention to how the neighborhoods' industrial heritage has been memorialized, ranging from celebratory murals in working-class areas to restrained, "tasteful" plaques within the condo grounds, which mark the industrial past but carefully skirt any mention of the neighborhood's crisis. Furthermore, his analysis of developers' and marketers' branding of the neighborhoods as the birthplace of Black Montreal jazz is particularly compelling for how it celebrates an individual genius like Oscar Peterson rather than the larger community's contribution to Montreal's cultural history and avoids the tougher tale of racism and the struggle against it.
Another strength of the book is its imaginative use of sources beyond traditional archives and statistics, including photographs, children's songs, wall murals, maps, and plays. High also undertakes architectural and spatial analysis to convey the extensive changes that took place in this urban environment. Particularly crucial to the book are dozens of oral histories, most recorded from 2005 to 2020 by High's students and deposited at Concordia University's Centre for Oral History and Digital Storytelling, that bring neighborhood residents' voices into the book. The involvement of students as interviewers, as well as researchers and creative artists whose work is also featured, adds a special quality to Deindustrializing Montreal. Even as this once-industrial community was fragmenting and unraveling, a team-effort was involved in documenting and telling its story.
A book this rich inevitably raises issues for further consideration. I will discuss three. The simplest critique concerns how illustrations are used. Deindustrializing Montreal is a beautiful book, featuring images in black-and-white and color on almost every page, mostly photographs both historic and contemporary, but also floorplans, cartoons, and the like. All are identified with a short description and date. I would have liked, however, to have been offered more extensive captions that explained how an image contributed to High's analysis. In other words, I would have preferred that the author interpret the photograph as a revealing source yielding insights rather than simply using it as a depiction of a site or event. A list of figures at the back of the book only repeats the minimal caption while identifying the photographer and/or image's location.
The second issue I will raise concerns how High has handled this microhistory of two neighborhoods. That approach—to dig down deep in one place over half a century–is both the book's strength and its occasional weakness. High knows a great deal about Point Saint-Charles and Little Burgundy, both as their historian and as a resident since 2010. As a consequence, we are treated to a highly textured narrative of two communities undergoing fundamental change. But High's extensive knowledge leads him to share a great deal of detail, at times overshadowing the larger context for these local transformations in the city, the province, and Canada as a whole.  A reader unfamiliar and perhaps less interested in the neighborhood itself can feel bogged down by specifics and eager for more of the big picture.
I will conclude by highlighting a third issue that is not unique to this particular urban and labor history but rather challenges many of us who work in the field. Deindustrializing Montreal  is to be valued for how it interweaves multiple strands in the  neighborhoods' decline: the closure of industrial plants and subsequent loss of jobs; the departure of the best-off workers to more middle-class neighborhoods with suburbanization during the industrial heyday, which likely deprived the protest movements of strong leaders; the removal of important community landmarks and displacement of residents with urban renewal; and the arrival of upper-middle-class gentrifiers attracted to the feel of a former industrial landscape but eager for amenities like shops and restaurants that threatened its working-class character. High's tone, not surprisingly, is condemning of how this history unfolded.
But what I think is sometimes missing is a more even-handed discussion of what other options decision-makers might have had, as understood at the time as well as in retrospect. For example, High makes no secret of the deteriorated state of much of the neighborhood's housing. It is, therefore, understandable that decently-paid workers with sufficient resources would head for the suburbs. While there were many problems with how urban renewal played out, such as excessive destruction and dislocation, we learn that Little Burgundy today has the highest percentage of subsidized housing in Montreal and the largest concentration of public housing in Quebec. Recent frustrations with management aside, when this social housing was built, it was welcomed by tenants who had been squeezed into cold flats for its warmth and spaciousness.  In one place where High does discuss an unfortunate choice by city leaders—the decision to implement urban renewal in phases– his analysis is strengthened by showing how landlords were thereby disincentivized to invest in their properties for a long period of time, causing residents to suffer.
Similarly, one can lament that firms closed factories and cut jobs, but could that history have gone any differently? The same devastating deindustrialization hit the rust belts of the United States, Britain, France, and Germany as globalization transformed Western capitalist enterprises. Were there better uses than middle-class condos for the industrial ruins left behind when plants shut down and if so, what would they have been? Might those with power have made different, more democratic decisions in seeking to reposition Montreal economically in a postindustrial era, such as giving less latitude to private developers and a stronger hand to public authorities? High is dismissive of the call for "social mixing" as a barely disguised strategy of gentrification, but would a requirement that developers include a percentage of subsidized units in their buildings have made a difference? It is understood that historians are not policy makers. But our arguments are more convincing when we can situate the choices made by historical actors within the larger realm of possibilities, many of which were actually proposed and dismissed at the time. The result of an analysis that examines roads both taken and not; accepted, rejected, and barely considered; would be to strengthen rather than weaken any critique of what actually occurred.
Regardless of these quibbles, Steven High has made an outstanding contribution to the labor and urban history of post-World War II North America, one that deserves our highest acclaim. That the book is the product of his many years of teaching and collaborating with students makes it all that much more special.