As a child, Gwen Trice caught sight of a ragged scar along her father's shoulder – a mark from a long-ago logging accident. Lafayette "Lucky" Trice was a loving but imposing figure, and much of his early life was a mystery to his young daughter. It would be years before Gwen began to piece together the details and claim her story as a descendant of one of Oregon's early Black loggers.
In 1923, Lucky Trice and his father were two of a handful of skilled loggers recruited by the Bowman-Hicks Lumber Company in the southern US to join a new operation in the Pacific Northwest. They traveled from Arkansas to Oregon by boxcar. For the next decade, Lucky felled Ponderosa pines in the remote subalpine forests of Wallowa County in northeastern Oregon alongside other Black and white southern loggers, local white men, and Greek immigrants.
The work was hard and dangerous. As a sawyer, Lucky spent many hours controlling one side of a crosscut saw. Sawyers worked in pairs and learned how to move in perfect rhythm with their regular partner to maximize their yield – and their safety. Lucky and his father were not only skilled loggers; they also worked as mechanics on the steam engines and cared for the draft horses. Winters in the mountains were long and severe, with temperatures far below zero and snow drifts well above a man's height. More than once, Lucky curled up inside the coal box of the train's steam engine at the end of a long day for extra warmth.
Bowman-Hicks employees lived and raised their families in the small company-built settlement of Maxville, Oregon. Maxville had two schools – a Black school, and a white school – two baseball teams, and distinct housing areas for Black and white families. But despite the formal segregation imposed by the company, Maxville residents shared resources and socialized across racial lines.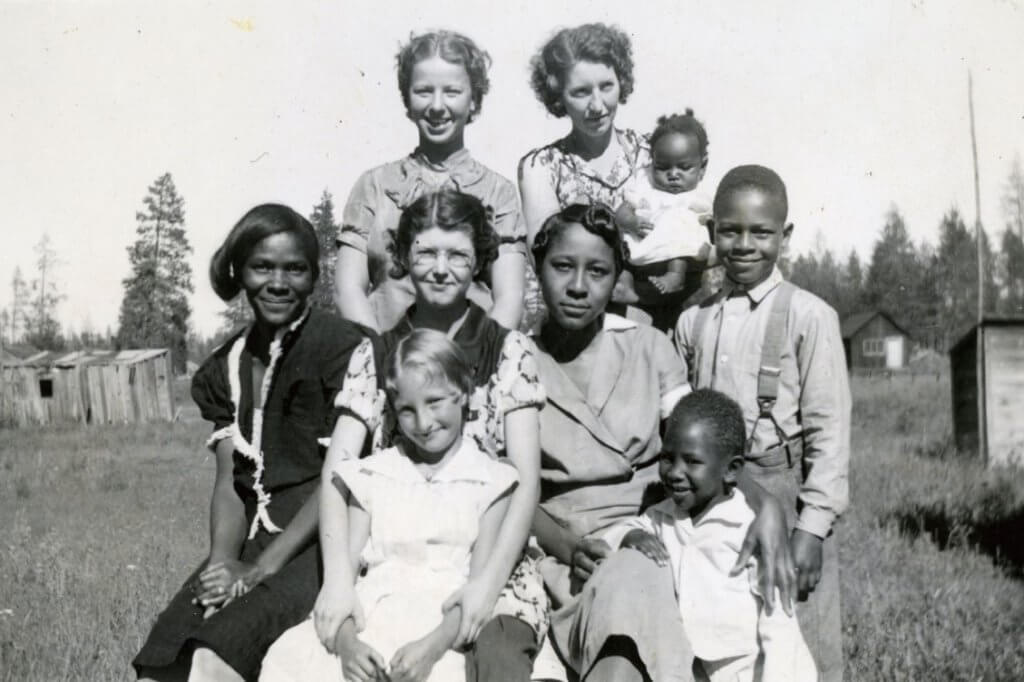 This Jim Crow social structure was highly unusual for the Pacific Northwest – not out of any kind of progressive ethos of multiracial integration, but rather its opposite. At the time of Lucky's arrival in Oregon and the founding of Maxville, the Oregon constitution barred Black people from living or working in the state. Oregon had entered the Union as a free state in 1859, but one that did not welcome African Americans at all – enslaved or free. Oregon's exclusion laws were rarely enforced, in large part because they worked so effectively as a deterrent; the state of Oregon stayed a predominantly white political entity throughout the twentieth century (and is still so today). In 1920, the US Census recorded only 2,144 Black residents in Oregon, a miniscule fraction of the state's population (0.27%).
The Bowman-Hicks Lumber Company's move to buck Oregon's exclusion laws and recruit a multiethnic workforce was perversely strategic; Black and white workers were less able to unionize together and, therefore, more likely to accept the company's treatment and compensation as offered. The Trices' arrived in Oregon a few years after the Industrial Workers of the World, or the Wobblies, had scored major wins in logging camps and mills around the Pacific Northwest to secure better living conditions and an eight-hour workday for thousands of timber industry workers. While there is evidence of some covert outreach to Maxville loggers, no active organizing effort took root in the community.
When his logging days were over, Lucky stayed in the area; he moved to nearby La Grande, Oregon and raised a family. Gwen remembers what it was like growing up Black in La Grande in the 1970s. Possessed with a theatrical spirit and tired of getting mistaken for the few other Black teenagers in the county, Gwen chose to stick out on her own terms. She dyed her Afro bright red, wore knee-high moccasin boots and a spotted fur and Naugahyde leather jacket. She would walk her pet skunk on a leash down the main street of La Grande past all the other teenagers "dragging the strip" in their cars.
It was not until after Lucky's death that Gwen learned more about how her African American family had come to be in rural eastern Oregon and their importance in the origins of the local timber industry.
"I knew why I was here," Gwen says, holding back tears. "I belonged." Learning that her father was not brought to Oregon, but rather recruited for his skills, offered Gwen a new sense of belonging and purpose. So much so that she moved from Seattle back to "the county" – as locals call it – and started a nonprofit, the Maxville Heritage Interpretive Center, to amplify the hidden histories of Black, Indigenous, and immigrant loggers in the northwest timber industry.
Since founding the Maxville Heritage Interpretive Center in 2008, Gwen's organization has expanded to include a museum on the main strip of Joseph, Oregon, and a traveling exhibit on timber culture. And this summer, Maxville Heritage Interpretive Center celebrated their biggest achievement yet: purchasing 240 acres of land that includes the Maxville town site and surrounding forest lands. Gwen plans to turn the site into an educational space that tells not only the history of Maxville but the longer history of Indigenous stewardship that precedes her own family's migration.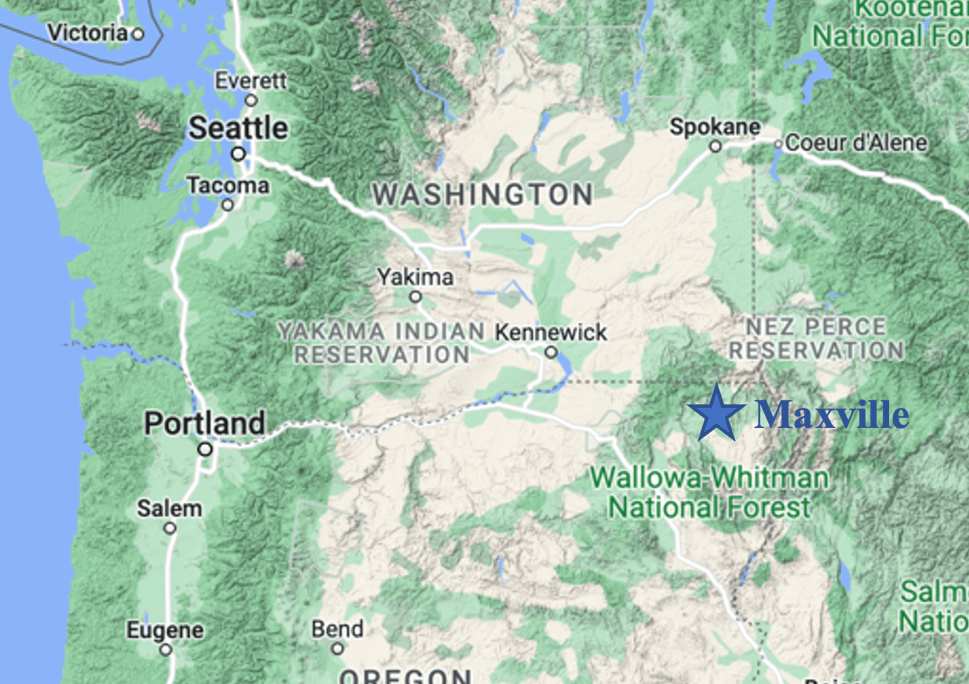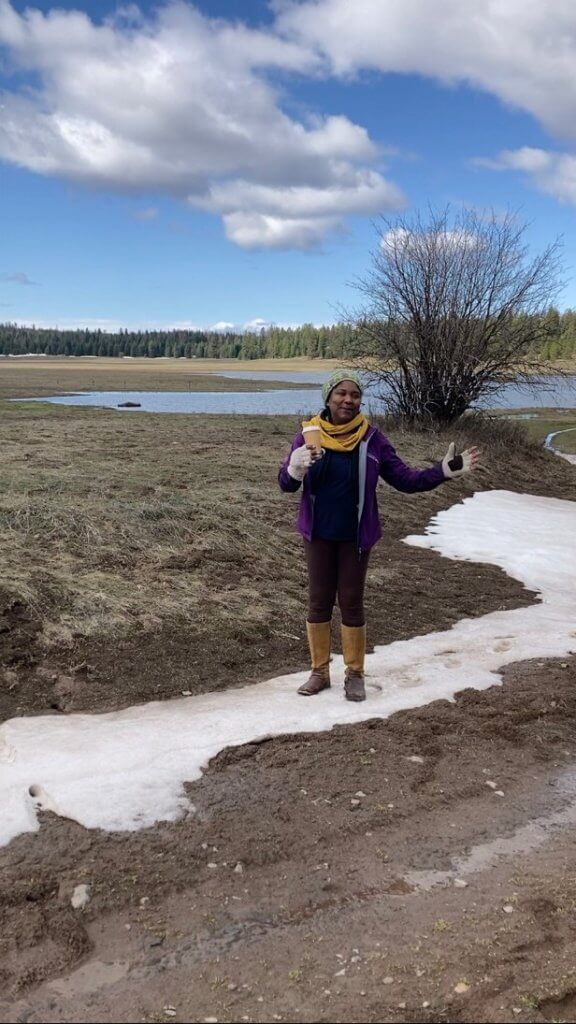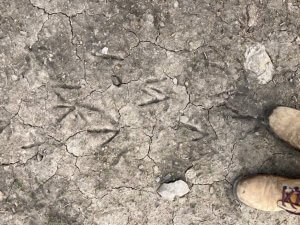 Walking through Maxville with Gwen after the first big snow melt of the spring, I sense the weight of what is gone and what remains. The logging train is long gone, its rattle lost to another century, but a barely discernable flat path through the quiet forest remains, scattered with rusted detritus. A few of the original roads into Maxville remain. As the first visitors of the season, Gwen and I have to move several fallen saplings out of the way to get my Subaru through. We get out of the car and walk together through the meadowlands and acres of forests. Gwen points out the site of the baseball field, the white family housing area, and the Black school. What I mistake for rocky outcroppings in the forest, Gwen explains is a hardened black tar substance that must have spilled out and trickled down the gentle slope of the business district of Maxville, a sign of a possible industrial accident on the site. She can interpret the clearings and level places in the forest as signs of the town where her father and grandfather once lived from her careful study of the land with archaeologists, historic aerial photographs, and the memories of the former residents she has interviewed. The clues are subtle, but Gwen's ability to read them recreates the social world of this unique community.
 Ninety-nine years after the founding of Maxville, a descendant of one of Maxville's Black loggers is the legal steward of this land. Maxville's loggers may be gone, but the logger's daughter remains.
For more information about the Maxville Heritage Interpretive Center, visit their website at www.maxvilleheritage.org or visit them in person at their museum in Joseph, Oregon. Many thanks to Gwen Trice for her careful co-curation of the facts and stories shared here.