On Friday, September 3, 2021, the curtain opened on harmony singers Heather Hannah & Company at the Battle of Blair Mountain Centennial Kickoff Event at the Charleston, WV Civic Center.
"It's such an honor to be here, to be standing up here with you all," Hannah said, "commemorating this centennial of courage, commemorating the courage it took for a miner to look at someone else who maybe didn't speak the same language as him or come from the same country as him or pray to the same god and say, 'I trust you with my life, and with you I'll lay down mine if I need to, because there's something bigger here that needs to be taken on.'"
"And unfortunately," she continued, "it's a message that holds true because the face of fear changes—it's not always a Pinkerton—but there's always fear, there's always greed, and there's no other group of folks I'd rather be joining arms with in the face of such things, holding the line with, the line of love."
Hannah and two of her brothers then launched into a haunting version of Clancy Fields's "West Virginia," a love letter to the state and its people. They learned the song from their father, a Mingo County coal miner, and now sang it in a new context of labor struggles, past and present.
In August 1921, some ten to fifteen thousand coal miners battled about three thousand deputies, militia, and National Guardsmen for five days at Blair Mountain, Logan County, West Virginia. Southern West Virginia miners and their families had fought for more than a decade for the right to unionize, hoping to restore constitutional rights denied them in company towns.
The recent Blair Centennial was the result of a three-year planning process. Kenzie New Walker, the executive director of the West Virginia Mine Wars Museum, led quarterly then monthly meetings to build a coalition, create programming, and craft a strategic marketing plan. Her position was supported by a grant from the National Endowment for the Humanities called Creating Humanities Communities. The centennial included more than twenty-five events and exhibits and brought together even more partner organizations and sponsors to make this one of the largest festival of events in West Virginia history.
"If you look at the state of unions today, it's obvious that West Virginia needs to remember who and where we come from," Walker told WV Living magazine, "and I think a lot of people looking from outside in have a view of West Virginians as backwards people—I want us to celebrate the history that we have and be proud of it."
Three online panel discussions prefacedthe commemoration, including one hosted by Rosemary Feurer and the Mother Jones Heritage Project that discussed the legacy of Mother Jones. The panel included historians Ginny Ayers and Elliot Gorn as well as journalist Kim Kelly, who has been covering the miners' strike in Alabama since it started. Also, Marshall University hosted a labor film festival that featured the documentary The Revolutionist: Eugene V. Debs and Q&A with representatives of the Eugene V. Debs Museum.
Early on Friday, September 3rd, I watched the UMWA begin its three-day march re-enacting the events of 100 years ago. WMMT reporter Katie Myers was on hand to cover the event. The fog lifted off the mountains over Lens Creek as UMWA President Cecil Roberts climbed onto the bed of a pickup truck to talk about the historical significance of this march, his great-uncle Bill Blizzard's leadership of the originaltrek, and the central role that mine workers—including veterans of Blair Mountain—played in the CIO's organizing drives during the 1930s.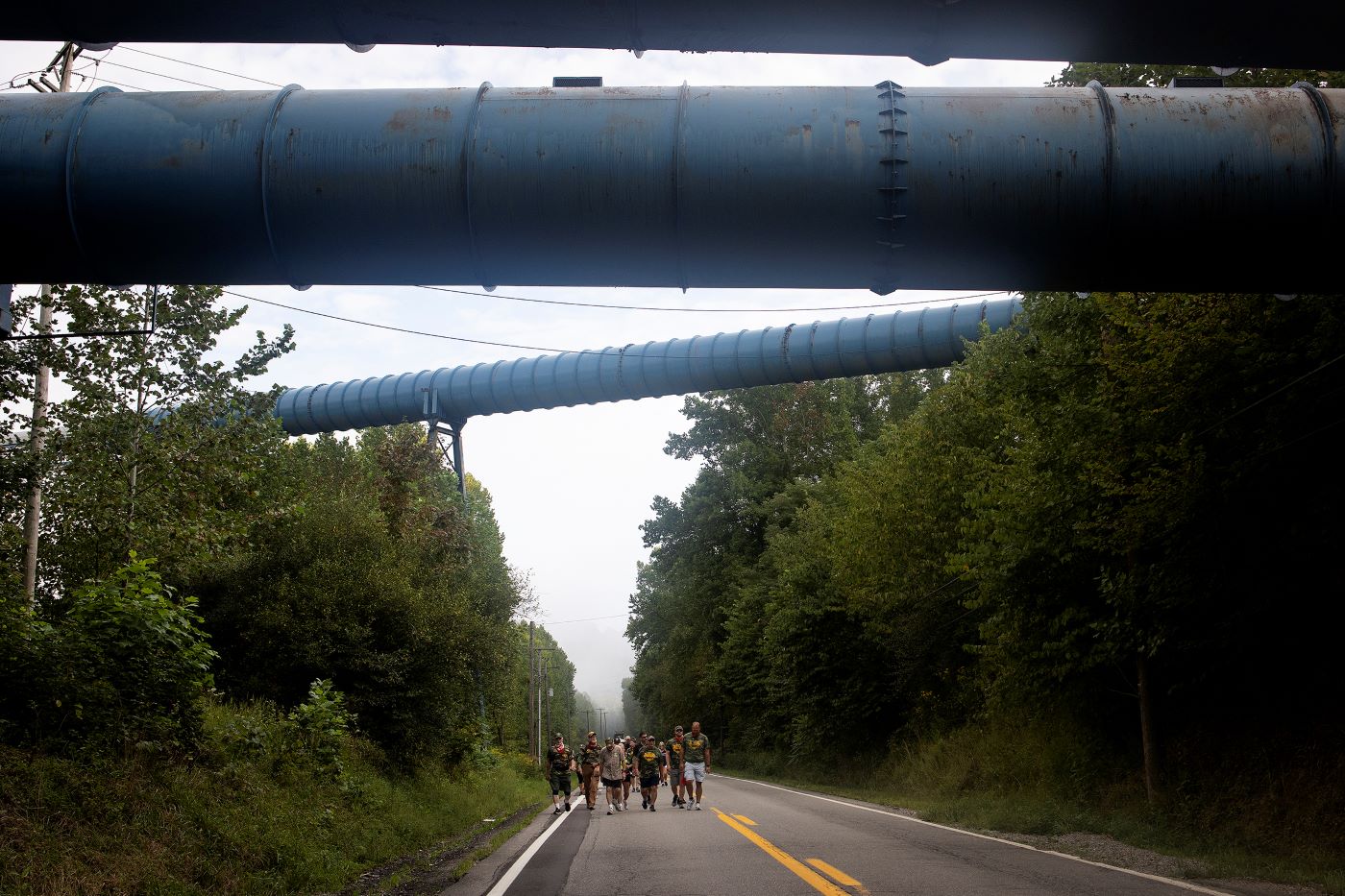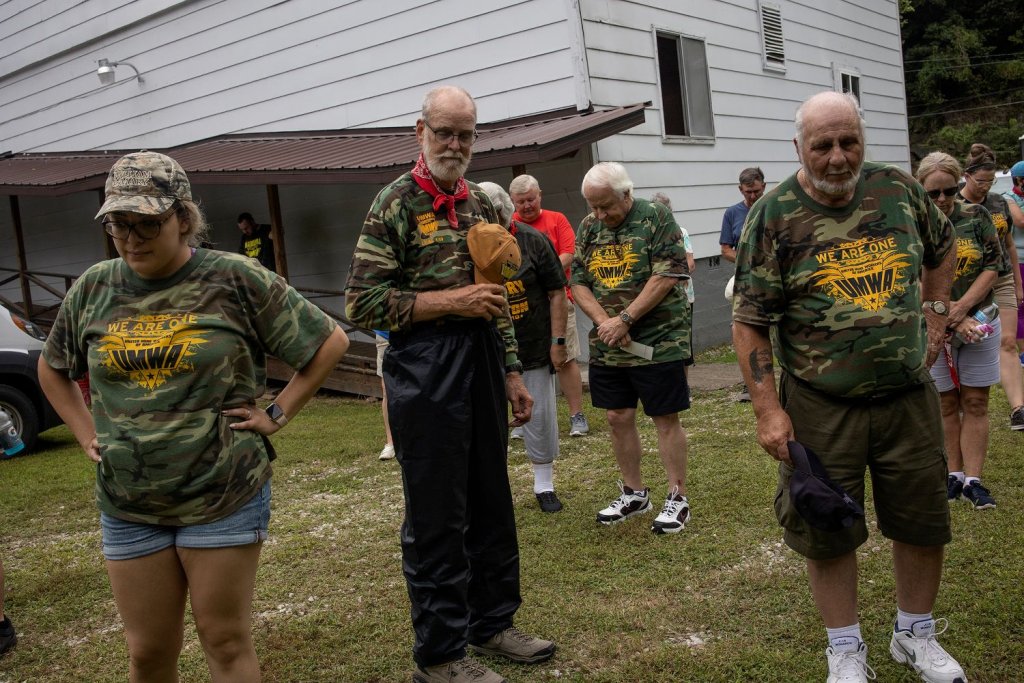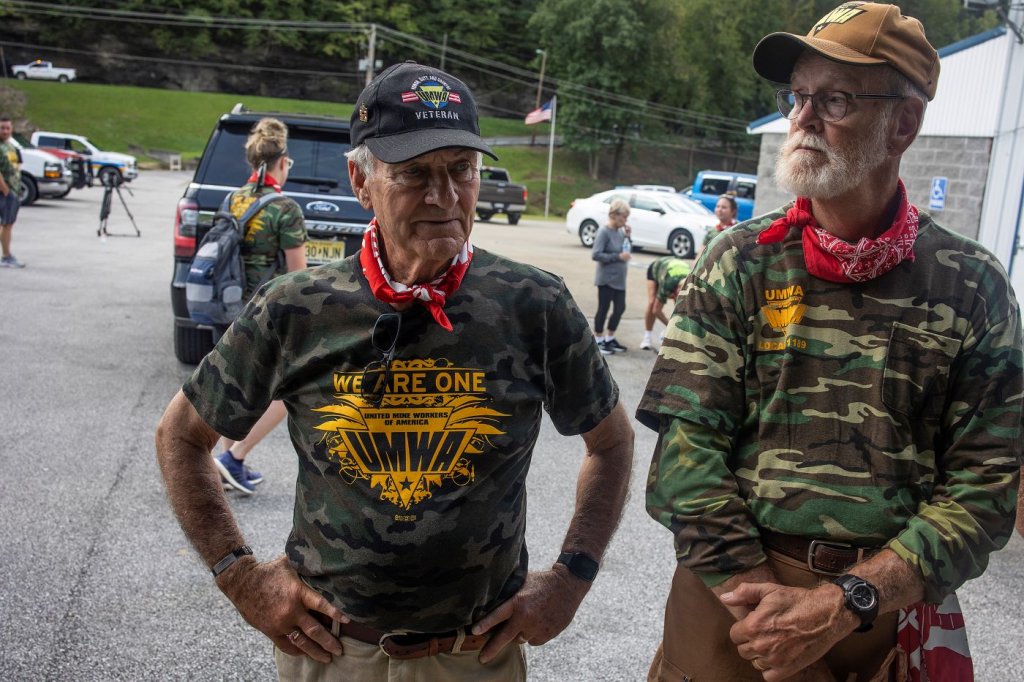 Along the route, marchers passed several "pop-up" exhibits, a project of the Preservation Alliance of West Virginia detailing the historical events at each location. Retired miner Kipp Dawson of UMWA Local 1197, now 76 years old, walked the nearly 40 miles beside her union sister Libby Lindsay, another retired miner. Dawson told one reporter, "For both of us to pick up the spirit of our forebears who made it possible for us to work safely in union mines so many years later, it was moving. It was a thank you. We were determined to keep going."
Friday evening's Kickoff Event was at the Charleston Civic Center, a venue with an expansive lobby for tabling by two dozen partner organizations, including the National Coal Heritage Area Authority, the Battle of Homestead Foundation, the West Virginia IWW, and many more. The Kickoff concert began with Saro Lynch-Thomason singing parts of songs from the Mine Wars era. Doris "Lady D" Fields talked about her father coming from Alabama to spend his career in West Virginia mines, and poet Crystal Good read her poem "Civil Up & Rising," a meditation on race, the Battle of Blair Mountain, and the Tulsa Race Massacre. Fiddle player Gerry Milnes and DC-based blues musician Phil Wiggins—who both appeared in the movie Matewan—closed out the show.
The next day, Welch, a tiny town on the Tug River, hosted an outdoor play titled Terror of the Tug and a screening of Matewan, John Sayles' 1987 film about the Logan County showdown of 1921.  In Charleston, there were panel discussions of museums, archives, and labor history, featuring representatives of the Mine Wars Museum, Rivers of Steel, the Walter P. Reuther Library, and the Remember the Triangle Fire Coalition. That evening, about one hundred activists gathered outside the local Universalist Unitarian church. Writing for Pennsylvania Labor History Journal, Charles McCollester observed, "The dream of a new and fairer West Virginia attainable by solidarity and political engagement was truly inspiring."
I spent Sunday in nearby Mingo County, starting at the Solidarity Supper on top of a mountain outside of Kermit. Only forty people were lucky enough to get tickets to the Big Laurel Learning Center's locally sourced lunch and a performance by Tom Breiding, the official songwriter of the UMWA.
Afterwards, I drove to Matewan, expecting to see about a dozen or so people waiting in a drizzling rain for the walking tour of the town, but I rounded the corner and saw a crowd of about 120 making their way from UMWA Local 1440's hall and to Mate Street to hear from Mine Wars Museum board member and local resident Wilma Steele. That evening, I met people who had come from across the country, as far away as Tampa, Florida, and Homer, Alaska.
Thrilled at the turnout as well as coverage in the New York Times, museum director Walker said to me, "I think what this weekend did was to amplify the voices of miners and their families."
The next morning, Brad Davis, a Methodist minister in the town of Logan led what he called a dissident church service, which, as Kim Kelly observed, was, like most of the events, filled with music. Davis preached that God's spirit was leading us "out of the drift mouth" of the mine to a new day. "A new day," he said, "when black lung is no more, a new day when company pensions don't have to be fought for, a new day when miners aren't forced to block railroad tracks to get their paychecks, a new day when the ruins of our communities are rebuilt, the economic and environmental devastation of the coalfields repaired."
The final event of the weekend was the UMWA's Labor Day rally in the town of Racine where many of these same topics were discussed by retired miners—themselves veterans of union struggles—as well as younger journalists and activists. Various Blair 100 programs and exhibits will continue in the region through winter.
Director Walker hopes conversations about Blair Mountain continue, and the Mine Wars Museum is already planning to lead community conversations about permanent markers along the march route and on the mountain. "If you go to Blair Mountain today, if you blink, you'll miss it," she told one reporter. "I hope the 100th anniversary will serve as a springboard for future projects that will help us remember Blair Mountain." We should hope so too.
Below is a short capsule summary of all the events around #Blair100.
Lou Martin is a board member of the West Virginia Mine Wars Museum, honorary member of UMWA Local 1440, and an associate professor of history at Chatham University. He is the author Smokestacks in the Hills: Rural-Industrial Workers in West Virginia (2015).
This post is part of a series for Labor Online curated by Alex Lichtenstein,  professor of history at Indiana University, a Research Fellow at the International Studies Group, University of the Free State, and the former editor in chief of the American Historical Review. He writes about both US and South African labor history. His most recent work, with Andrew
Lichtenstein

, is Marked, Unmarked, Remembered: A Geography of American Memory (2017).