Last month, the National Labor Relations Board proposed a new rule that would reclassify graduate workers at private institutions as students, not workers, and therefore rescind their collective bargaining rights. By claiming graduate workers' relationship to their university is primarily educational and not economic, the majority-Trump-appointed NLRB threatens to undermine decades of labor organizing. Somewhat surprisingly, however, higher education publications have been quiet, and even ambivalent, about the significance of this rule. Although it's common enough knowledge that the crisis of contingency in academia is not only exploitative of non-tenured and adjunct workers, as well as broadly destructive of the intellectual aims of higher education, the particular situation of contemporary graduate workers is often omitted from the conversation. As a PhD candidate at a public university, and a member benefiting from a grad worker union, I can tell you: we are workers, and we need unions.
Consider the broader economic context of graduate labor. During our time as graduate students, many of us, even with the support of a union on campus, seek work on semesterly or yearly contracts. And although we're expected to perform as if we're professional equals to tenured faculty, we can be treated by our own institutions as expendable, replaceable, and "flexible." In addition to low wages, and uncertain employment, graduate students shoulder over 40% of national student debt.[1] While for some this debt could more certainly be repaid by securing a position as a doctor or dentist, for many in doctoral programs, neither the prospect of securing a job that pays nor the possibility of receiving loan "forgiveness" is certain. The academic job market, as is well-known, remains stratified and even the best of candidates from the best of programs are struggling to find work.[2]
Moreover, the culture of academia persists in creating abusive working relationships, romanticizing suffering as an aspect of intellectual training. In fact, a recent study of graduate worker life found that graduate students suffer from depression and anxiety at a rate six times higher than the general population. According to the study, the two primary factors impacting graduate student mental health are work-life balance and the quality of the relationship between student and advisor. In addition to the stigma against taking time off or prioritizing personal issues, more than half of graduate workers report abusive, exploitative, or neglectful relationships with advisors.[3]
Apart from graduate labor unions, there is, in general, no institutional apparatuses that exist to secure the rights of graduate students, either in their capacity as workers or students. From many students' perspective, sexual harassment or discrimination complaints, filed through Title IX or EOC offices, put students at greater risk for retaliation both now and later in their academic careers. In an institutional context where bureaucratic measures work first to protect faculty and the image of the university, graduate employee unions are often the only bulwark against oppressive working and learning conditions. Outside of large scale resistance, they offer access to the merest amount of power that graduate students can use to fight back.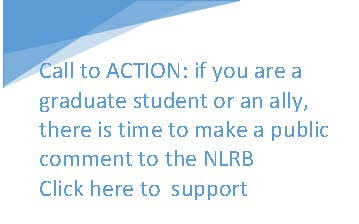 The conditions of our labor are isolating, sequestering us in lonely offices where we have little to no contact with grad workers outside our own fields. Few institutions have infrastructure designed to facilitate cross disciplinary relationships, even if they avow a commitment to interdisciplinary research. And this strategic shutting in of grad workers prevents them from ever knowing solidarity, community, or hope. But, graduate employee unions encourage us to rethink our relationship to our institutions: outside of the paradigm of the department in which your worker identity is wrapped up with your academic output, your labor is more visibly a part of a bigger picture. From the perspective of organized grad workers, the apparently individual issues with funding or institutional support that we face are no accident—they are aspects integral to the design of university systems that depend on our flexibility.
As with other Trump administration attacks on labor and higher education, the proposed NLRB rule advances a mystifying and damaging vision of what universities are and how they meet the needs of their publics. Denying these classrooms and labs as workspaces, and thus denying workers' entitlement to labor protections, universities can more easily justify and quickly institute hiring policies to "adjunctify" us all.
[1] As reported by NPR in August 2019, by Sally Herships in her article, "Graduate Students are Increasingly Shouldering the Country's Student Debt." https://www.npr.org/2019/08/14/751235991/graduate-students-are-increasingly-shouldering-the-countrys-student-debt
[2]See Emma Pettit's piece in The Chronicle of Higher Education, from this summer: "Columbia had little success placing English Ph.D.s on the tenure track. 'Alarm' followed and the university responded."  https://www.chronicle.com/article/Columbia-Had-Little-Success/246989
[3] The National Association of Graduate-Professional Students published a "Graduate Student Life Brief" in March 2019: https://drive.google.com/file/d/1c7JPEQLaS9i9Bhr_IPoE1RLS5UmWur6j/view