In a recent LAWCHA post, Conor Casey, of the Labor Archives of Washington at the University of Washington Libraries Special Collections, properly cheered students who won a prize at National History Day using documentary footage about the 1934 West Coast Waterfront strike—and appropriately boasted how the archives had supported them.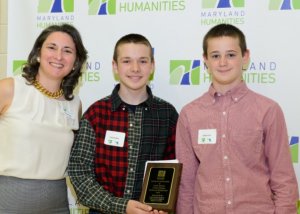 In Maryland, we created some years ago a Labor History Prize (now $500) for the best entry at the state History Day. This year, Colton Jenkins and Anthony Paul (shown with Maryland Humanities Council Director Phoebe Stein) won the prize for a project about Henry Ford. Yeah—Henry Ford is a stretch for Labor History. But last year, two young women won for the project on the Triangle Fire.
We raised money the old-fashioned way—by shaking down the labor history supporters across the state. We even received a substantial contribution from an IBEW local, and now have about $1,500.00 in our account. We are constantly looking for ways to raise money—and to raise awareness about labor history.
Creating this prize (with its capitalist-tested motivation of cash money) encourages knowledge among teachers and young students about workers history that has been basically absent from school curricula. As anyone who works in education knows,  corporations consistently finance support programs that endorse the greatness and social value of private ownership. The list of prizes at History Day—a Who's Who from the Chamber of Commerce—illustrates this support.
Why not create a similar prize for your state? It builds visibility for labor history (and the labor movement) and starts 'em young.