In 1988, the Labor Education Program (a labor studies extension school) at the University of Illinois at Urbana-Champaign's School of Labor and Employment Relations established the Regina V. Polk Women's Labor Leadership Conference (Polk School). Funding through an annual grant established in honor of International Brotherhood of Teamsters (IBT) Local 743 organizer Regina V. Polk, the conference was tasked with training women in the labor movement to develop their leadership skills and take on new roles within their unions.
Polk was a visionary union organizer who understood how important unionization was to the growing number of pink-collar women workers in the late 1970s and early 1980s. She pioneered organizing efforts at Blue Cross/Blue Shield and on the campus of the University of Chicago. Many within the IBT believed Polk was on track to become a nationally elected leader within the union. However, her life was cut short when she died in a commuter plane crash in Southern Illinois. Her husband and friends spearheaded a fundraising campaign to establish a fund that would be dedicated to educating women workers that drove Polk's organizing vision.
When I was hired as an assistant professor at the School of Labor and Employment Relations, I was also given the responsibility of directing the Polk School. As the third director over the past thirty years, it is definitely a high point of my year. Every May, women workers from across Illinois and sometimes around the country or even the world, join together to learn, rejuvenate, and bond for four days on the banks of the Illinois River in southwestern Illinois.
The program content changes every few years, but the mission is consistent. We want to create a space for women to not only gain new skills to help them grow as leaders in their union, but also offer a safe space for women to rejuvenate and recharge. The school is held at a rural conference center that allows us to separate ourselves from the demands of every day life. Incorporated into the school's curriculum are classes in gentle yoga, meditation, and self-care. We also set aside time for women to build relationships with one another. A typical school enrolls thirty-five women, most of whom have never met one another, after a competitive application process.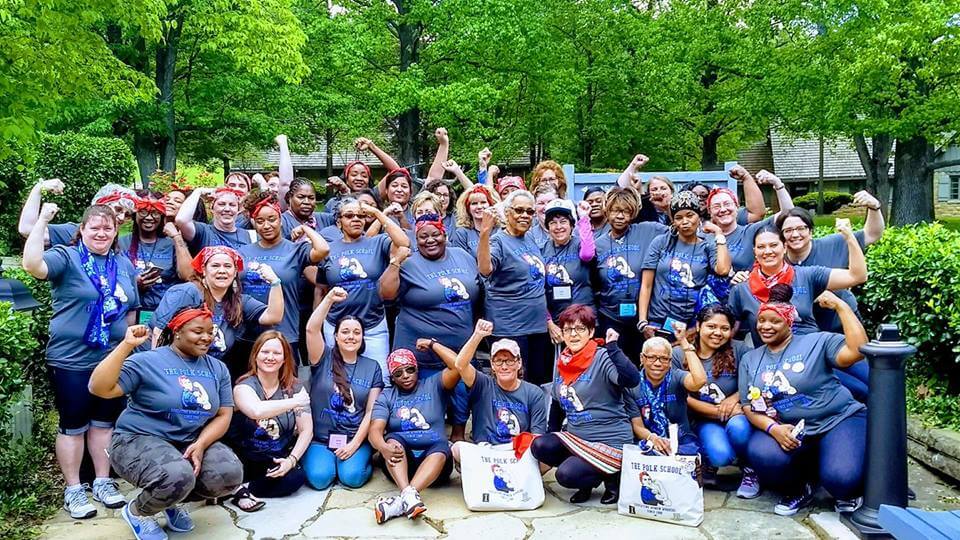 An important distinction that sets this school apart from other leadership programs are the extensive scholarship opportunities. It is not uncommon for 95% of the participants to come with a full scholarship that covers the cost of the curriculum, lodging, and food.
During the 2017 Polk School, we welcomed 35 women from 16 different unions. There has been a significant shift over the years as more and more public sector workers have replaced private sector workers. We have welcomed an increased number of women from higher education who are looking for ways to organize on their campuses and gain leadership skills that will help them run for office.
The opportunity to witness professors and casino workers, electricians and corrections officers, steelworkers and nursing aids all learn from one another is an experience that demonstrates the power of popular education to break down barriers and take on biases.
This year's Polk School will take place in Grafton, Illinois from May 16-20, 2018 and will focus on sexual harassment in the workplace.
Why don't you apply?
For more about the school visit our Facebook page or our website at www.reginapolkschool.com.